Project 117. The Sanitation and supervision of the M.v. Los Llanitos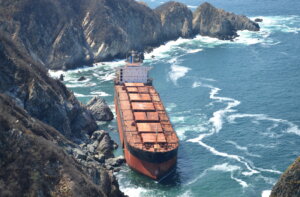 In October 2015 the Bulk carrier "Los Llanitos" was grounded near Barra de Navidad, Mexico, during Hurricane Patricia. The vessel grounded while in ballast, having no cargo on board. Sea2Cradle was granted the project by the authorities from Mexico and the P&I Club in 2016 to first investigate the sanitation of the vessel and to thereafter supervise the whole project.
As this was more a cleaning- than a recycling project, it provided some other challenges compared to the normal supervision at a recycling yard. Apart from the standard basic (pre) cleaning up all over (taking into account all health, safety and environmental sound measures), and in this case partial cutting of some parts of the vessel, there were some other challenging procedures to be considered:
additional safety and working procedures on the vessel, on the site and in the water (tourists);
helicopter landing arrangements (all workers, all supplies, and all waste was transported by helicopter);
extra training to the workers on how to keep a clean ship at all times (no debris whatsoever was to fall into the water);
mobilization of the vessel, and last but not least;
the authorities had decided they wanted the vessel to remain on the rocks and have it fully sanitized and 'recycled' by natural degradation.
For the full story please click here or visit our projects.