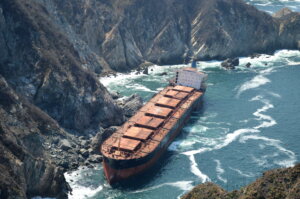 Los Llanitos was a 38,000-tonne, 223 meter bulk carrier that ran aground near Mexico's Barra de Navidad during hurricane Patricia in 2015.
---
---
Los Llanitos' hull was cracked and therefore the vessel could not be re-floated and repaired. The decision was made by Mexican authorities to utilise the expertise of the Sea2Cradle team to responsibly clean the vessel of hazardous and non-ferrous waste and then leave it in place to erode naturally by the sea.
---
---
Sea2Cradle initiated the project by evaluating the sanitation of the vessel and creating a Pre-cleaning Plan  and Inventory of Hazardous Materials (IHM) for the vessel. All cleaning, sanitation and cutting of the vessel was supervised on-site by the Sea2Cradle team.
Using Sea2Cradle's Ship Recycling Waste Balance methodology, all hazardous substances and waste flows were tracked and recorded until final disposal, providing tangible evidence of environmentally sound waste management and regulatory compliance. All waste carried off the vessel had to be transported by helicopter throughout the project, with Sea2Cradle being responsible for coordinating all helicopter landing and departures, which were strictly supervised to ensure no waste fell into the sea. In addition, all on-shore waste management was coordinated by the Sea2Cradle team in accordance with international regulations and industry standards, protecting people and the environment.