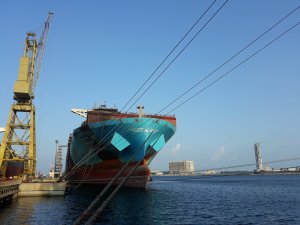 Four years after a devastating fire raged the forward section of the Maersk Honam, burning the superstructure and all cargo in its holds, the recycling and recovery of all waste from the vessel was finally completed with the receipt of the last recovery documents in April 2022.
---
---
Sea2Cradle was involved in the Honam project from start to finish. In the first phase, we were appointed as Expert for the P&I Club, overseeing the excavation and discharge of debris and waste from the burnt vessel and transport to and storage at the designated yard, as well as the cleaning of contaminated scrap and disposal of cleaned scrap. In the second phase, we acted as Owner's representative, monitoring the segregation, transport, treatment and recovery or disposal of all remaining waste.
---
---
Sea2Cradle's key objective was to address risks at all stages of the waste management process, protecting the vessel owner from any short- and long-term liabilities. To do this, our experts surveyed health, safety, and environmental standards and performance on a daily basis, monitored waste transport, and inspected waste treatment, recovery and disposal facilities. This way Sea2Cradle safeguarded compliance with all applicable local, international and EU regulations for the entire waste management process and ensured that all waste (28,413 tons) was accounted for in the final waste stream reconciliation report.