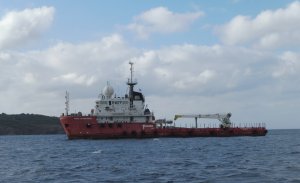 Built in 2002 as the Adams Surveyor at the Guangdong New China Shipyard, the MS Fugro Adventurer was an offshore survey vessel owned and operated by Geo-data specialist Fugro. After almost 20 years of service, Fugro decided to retire the vessel and hired Sea2Cradle to assist in having the ship recycled responsibly.
---
---
Fugro decided that the Fugro Adventurer, although not EU-flagged, should be recycled in full compliance with the EU Ship Recycling Regulation (EU SRR) and that the recycling processs should be tracked almost to the last scrap of metal. With assistance of Sea2Cradle, the EU certified Ege Celik recycling facility in Aliaga, Turkey was selected to dismantle and recycle the vessel in a safe and environmentally sound manner.
---
---
Preparation
Sea2Cradle validated the existing Inventory of Hazardous Materials (IHM) part and helped completing the IHM for recycling. Because the Fugro Adventurer last was operational in the Middle East, a notification for transboundary movement of hazardous waste was filed by Sea2Cradle under the Basel Convention with the competent authorities in Dubai. Once this notification had been approved by the import country (Turkey), the transit country (Egypt) and the export country, the UAE issued the required export permit and the vessel left Dubai for its final voyage just before Christmas 2021 and arrived in Aliaga shortly after New Year.
---
---
Dismantling
There she was cleaned, dismantled and recycled under strict on-site supervision of the Sea2Cradle team, who ensured that the recycling was done in accordance with the Ship Recycling Plan and documented the entire process including the proper waste management. Sea2Cradle was successful in ensuring zero pollution, zero incidents and zero accidents throughout the dismantling and recycling process of the Fugro Adventurer.