Sea2Cradle participated at Salvage & Wreck Conference on Waste Management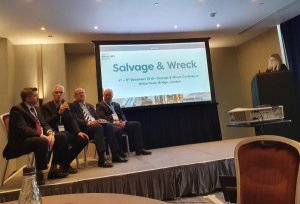 On the 4th of December 2019, Sea2Cradle's Director, Wouter Rozenveld, participated in a discussion panel at the Salvage & Wreck Conference in London. This session concerned "Ship Recycling, Waste Disposal and Removal: Complying with Rules on Hazardous Waste." Waste management aspects were discussed related to a vessel that had caught fire during cargo operations and had to be recycled.
Over the years Sea2Cradle has gained experience with the recycling of a number of vessels in similar circumstances and Wouter contributed by sharing his experience with the audience. In particular the complexity of compliance with new regulations of the Basel Convention was discussed, followed by a discussion about the interpretation and application of those rules to salvage cases.