Project 99. Recycling of the "San Francisco Dry Dock #1"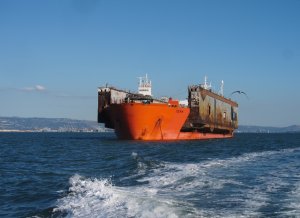 A prestigious project at the Port of San Francisco (USA). In collaboration with Dockwise, Sea2Cradle has arranged for the safe and environmental recycling of the over seventy year old "San Francisco Dry Dock #1".
The structure was placed on the special heavy lift vessel MV Tern and transported to a recycling yard in China. Because of the rather precarious condition of the bottom of the dock, additional measures were taken to ensure the workers could operate in a safe and healthy manner. A special team put the hazardous materials into bags that were inspected by the Sea2Cradle site team and stored in the hazardous material warehouse for further handling.
Despite the condition of the dry dock, the process of pre-cutting and offloading of blocks went very smoothly. The last step was to move the floating bottom to the dry dock of the new-building site. In total, the cutting and demolition of the San Francisco Dry Dock #1 took only six weeks to complete after the structure's arrival in Zhoushan.